Online Management Development Programme
ETTI Export Import Management Institute (Since 1987) is organising a two-day "Online MDP on Customs Procedures & Documentations".
Customs Procedures & Documentations
Customs Rules & Regulations play an important & crucial role in the clearance of Export & Import Cargos. The associated procedures & documentations will have to be dealt with carefully to ensure smooth and fast clearances at minimum cost which finally adds to the profitability of the business. The program is designed to develop a clear understanding of the concepts relevant to Customs among participants from Industry especially from firms involved in Exports & Imports and also for those who intend to start Exports / Imports business.
Date : 8th and 9th April 2022 (Two Day Seminar)
Time : 5.00 PM to 8.00 PM
VENUE : Online Live Lecture, Zoom Platform.
Program Contents:
Basic Concepts of Customs Law
Introduction - Customs Act, 1962 and Customs Tariff Act, 1975
Levy of Customs duties
Warehousing
valuation of under the Customs Act, 1962
Procedure for clearance of Export - Import Cargo
Imports under Concessional Rate of Custom duties under FTAs / PTAs
An overview of Duty Exemption & Refund Schemes
Interactive session
FACULTY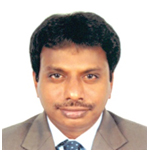 Shri. A. Ravi Kumar
Shri Ravi Kumar, He is working as a Director of an Export Promotion Council under the Government of India. He extensively interacts with the Ministry of Commerce & Industry , Ministry of Textiles and the Ministry of Finance and other Government bodies on various Policy related matters . He has got a deep knowledge of International trade and is well versed with the Foreign Trade Policy, Banking & Finance , Direct & Indirect Taxation , Customs Laws , RBI Regulations, Trade Defence Measures like Anti-dumping & Safeguard investigations , Rules of Origin, Free Trade Agreements (FTAs) / Bilateral Trade Agreements , GST Laws etc. and International Marketing.
Admission will be accepted on First come First basis.
Institute will provide Study Material.
Institute will provide Certificate.
More Details Please Contact: -
Mr. S. Kumar, Mobile: 9821485931 Mr. Karthik :  Mobile: 8850955833 / 022 40033529 / 022 26764049
Email: ettiindia1@gmail.com / skumar_sai@ettintl.com / admin@ettintl.com
website : www.ettintl.com